For the second year in a row, we will hold a memorial walk in Haleyville on May 19, 2012, in Mark's honor. This is the same day as the 5k/10k race. For anyone who wants to participate, it will begin 6:00 am and will be a continuous 31 miles in honor of Mark's 31st birthday, which is May 15. This walk will be held each year, with one mile added every year to represent his age.
The route will also begin and end at Haleyville High School. This is a personal walk for me and it's not about the money or participants; it's about remembering our brother on his birthday, and putting myself thru some pain in his honor. We welcome anyone who wants to participate. The entry fee is $20 and supports The Mark Forester Foundation. We will carry the same baton as last year. We anticipate the walk taking about 10-12 hours. There will be staging areas every 5 to 7 miles with water and few snacks.
The walk will include a stop at Mark's grave and a pass by the flag pole in front of our parent's house. The flag atop the pole has special meaning because it's the flag that Lt. Col. Frank Latt had in the cockpit with him while providing Mark air support on his final battle. Frank presented this flag to us shortly after his return from deployment.
**on line registration has ended. See you in Haleyville on the 19th**
The below picture is the group before starting at 6:00 am last year. Only about 5 people who started didn't complete.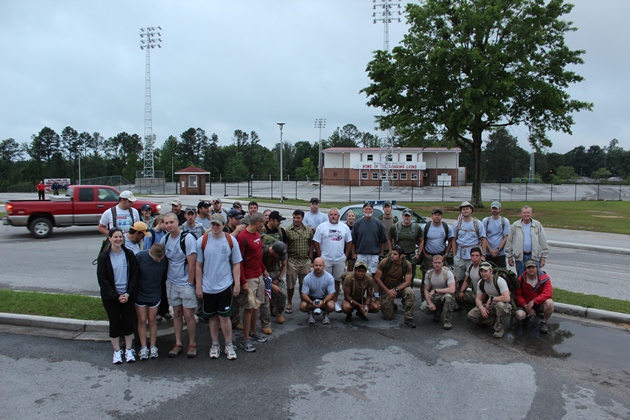 Matt Mueller has provided several tips for preparing for the walk and during it. Here is great information to follow:
1. Start using the shoes/boots that you plan on using for the Ruck March, NOW!!!!! This also applies to pants, shorts, shirts, cold/hot weather gear you plan on wearing. Don't let there be any surprises pop-up 10-15 miles into the march. DO NOT SHOW UP TO THE MARCH WITH UNTESTED GEAR, you WILL pay the price if you do.
2. Start using the socks you plan on marching with, figure out what works for you i.e. wool socks with a liner, ankle socks, or two pair of liners. Whatever you like, USE IT, TRAIN WITH IT.
3. BACKPACK. If you plan on carrying one, just as the first 2 tips, start using it during your training NOW. NO SURPRISES.
4. Start putting together a first aid/BLISTER kit, some suggestions include, but not limited to; mole skin, band aids, blister patches, vaseline, sunscreen, chapstick. As you continue training you will probably start to think of things to add. Also get smart on blister treatment, you can google it, there will be a lot of guys that can help you during the march but it's always nice to be self-sufficient if needed.
5. When training for the march, Never run or jog with your pack. Have fun training, get outside, crosstrain, train your whole body. Slowly work up to the march. Start with lower mileage and work up, 2-3 marches a week at varying distances will be good, once again, HAVE FUN.
6. If you want to get really aggressive about training there are a couple web sites that have some really good workouts for overall fitness: crossfit.com crossfitendurance.com, and militaryathlete.com
7. FOOD; during the march you will want to snack on a variety of food/power gels/beef jerky/snacks, start eating and experimenting with the snacks you like during training, this will identify any bowel problems you might or might not have while walking 31 miles at one time. Diarrhea/upset stomach is not your friend during a ruck march.
—————————————
Walking seems very easy, but I can assure you it's not if you're not prepared. I use Scarpa hiking boots b/c they have a firm heel and they worked great last year. There are many options though. Several of Mark's teammates attended last year and it was great walking with them. Many had at least 30 lbs in their packs. This is something they do often.
Here are a few more specifics and suggestions about the walk:
-To be clear, the 10k/5k/fun run race is still on too. The first race doesn't begin until 9:00 am. You can't participate in the walk and the run. They are completely separate events
-Parking for the walk will be at the Haleyville Middle School, which is directly across the street from high school football field
-If you plan to participate, please register on line. Registration link is above
-Begins at 6:00 am at electronic sign at Haleyville High School. Please be there early to get your t-shirt.
-There will be staging areas every 5-7 miles to eat a snack, drink, change socks, etc. We anticipate making each stop at the staging areas as quick as possible–10-15 minutes
-We will have a police escort. If anyone gets too far behind the group, they will need to be picked up by the trailing car and taken to the next staging area. If we get too spread out, the police are concerned for their safety
-Bring socks to change at every staging area
-If you have valuables and don't know where to keep them, you can put them in the trailing car, which will follow the group the entire walk
-You need to bring your own blister kit and first aid kit. Also, if you want power/energy bars, you will need to bring your own. We can only provide water, Gatorade, some fruit, and lunch
-Last year we were fortunate to have cool weather, in the 50's. Probably won't get that lucky this year, so be prepared for heat and humidity

If you will be visiting Haleyville for the first time, here is a link with city information. Haleyville Chamber of Commerce
Here are hotel options for the area:
1. Imperial Inn (formerly Windwood Inn) – Haleyville. This is an old hotel right in town. Rate is $42/night. Tell them it's for Mark's walk. Phone 205-486-5205.
2. Hampton Inn – Winfield (27 miles away). They are blocking 6-10 rooms for the race/walk weekend. Tell them it's for Mark's walk in Haleyville and the rate is $89/night, breakfast included. Phone 205-487-1270.
3. Best Western – Russellville (27 miles away). Many of Mark's teammates have stayed here for previous events. Rate is $67.99/night, breakfast included. Phone 256-332-1002.
4. Hampton Inn – Jasper (40 miles). May be best for those coming from the south (if you can't stay in Haleyville). Rates are TBD. Phone 205-221-3334.
Here are a few pics from last year, taken as we arrived at the Hutcheson's for lunch. This was after mile 17.5: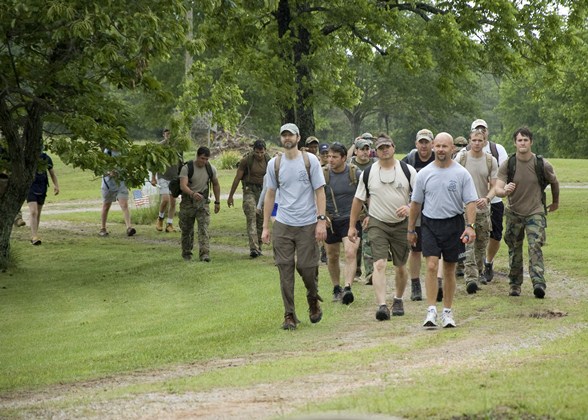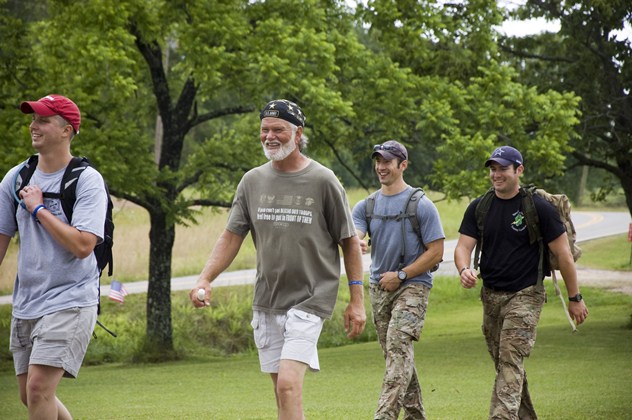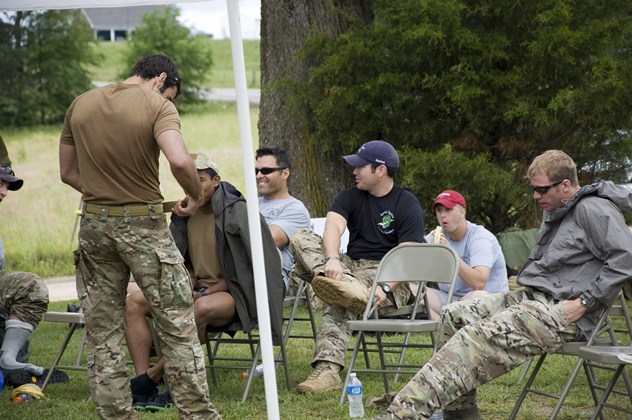 Ish taking a break. He had some nagging injuries from his last deployment, which he's since had surgery for. But during this walk, he didn't complain. He also still carried weight in his backpack.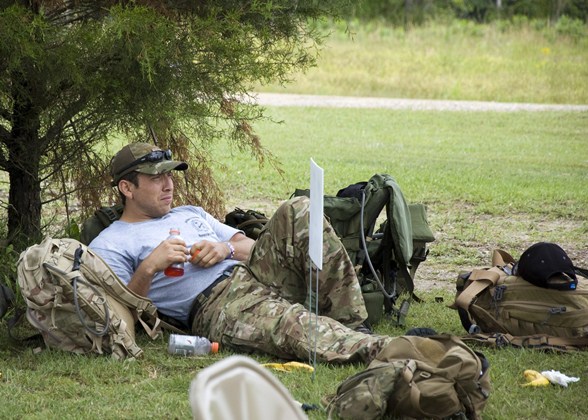 Doctoring blisters.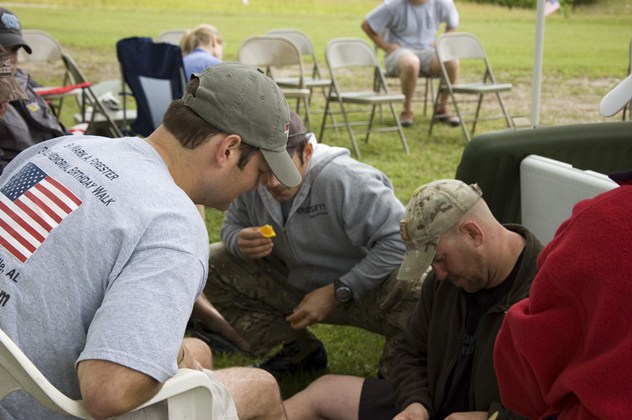 Nick handing off the baton just before we complete the walk. It took us about 10.5 hours last year to walk 30 miles.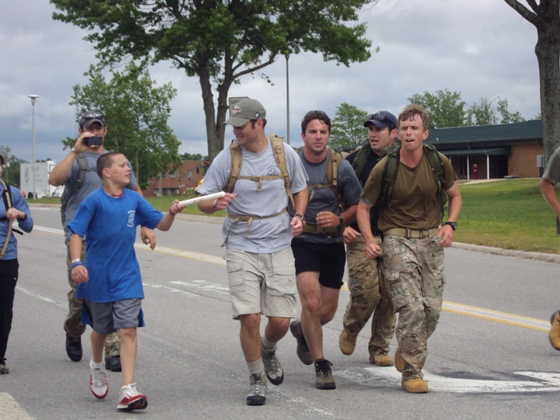 Click below to download the Price of Freedom Memorial Birthday Walk route. It's very similar to last year's route, with minor changes.