Today, October 16, members of the Air Force Special Tactics community began the 812 mile Tim Davis Memorial March from TX to FL. They carry a 50-lb ruck sack on their backs and in their hands a baton with the name of a fallen airman, including Mark.
They started at Lackland Air Force Base in San Antonio, which represents where they all began their early training, and end at Hurlburt Field, FL on October 26. Last year, SSgt. Rob Gutierrez carried Mark's baton and David was able to walk to final five miles with him.
This year David, Joseph, and Patsy will complete the last five mile leg with these airmen, in honor of Mark.
Click HERE to follow them on their journey because this blog is updated regularly. You will see pics and where along the route they are. If you're near them, stop by and shake their hands or tell them thanks for their service. This site also explains in more detail what members of special tactics do, including combat controllers (CCT').
HERE is a great article about the Tim Davis Memorial Walk.
We are thankful to them for their service and for doing this to honor those who've paid the ultimate price. We know this march is painful on their bodies, but their will to survive covers all pain, or most of it.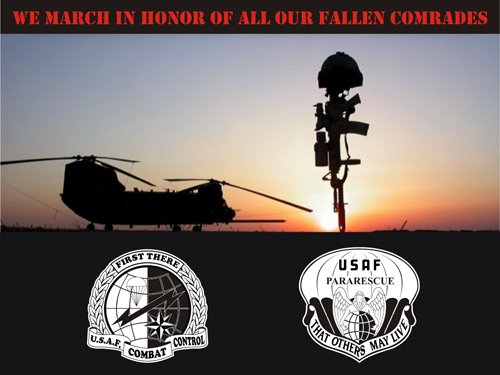 David part of the huge group who walked the last 5 miles to Hurlburt Field.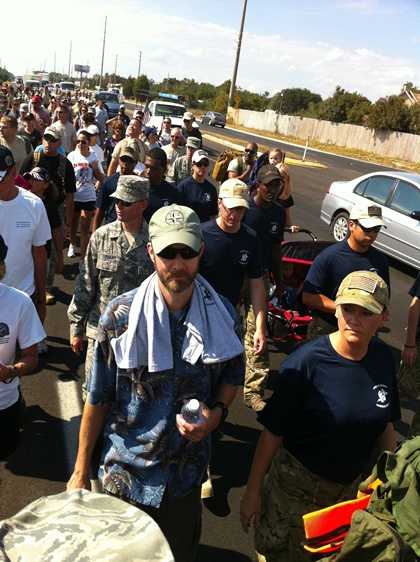 David and Joseph carrying Mark's baton, alongside CCT Keith Thompson, who was part of the team that carried Mark's baton the entire march.