Monday, April 11, the grave marker for our son, brother, and hero, Mark, was put in place. Each section of the marker was chosen for a reason:
-The image in the upper left is of the Angel Moroni. This is a symbol in our church (The Church of Jesus Christ of Latter-day Saints) used to represent the 2nd coming of Jesus Christ and remind us to look forward to that day
-Image in the upper right is the Combat Controller logo, along with Mark's call sign, Jag 28
-"Families Are Forever" was used to remind us of the eternal nature of families in our Heavenly Father's plan
-The script 'A' in the center is for the University of Alabama. Mark was a die-hard fan
– John 15:13 is a reminder of the redeeming sacrifice of our Lord for each of us
-"The Price of Freedom" helps us remember that freedom comes with a tremendous price. And Mark gave it all for our freedoms
The toy soldiers at the top of the marker were placed there by James Cole's son, Walker, a few months ago. They drove from Birmingham just to see the grave.
Also notice the coin at the top, center, in the ground. This was placed there by Lt. Col. Frank Latt when he visited in January. Lt. Col. Latt was above the battle field engaging the enemy in his F/A-18 during Mark's final battle.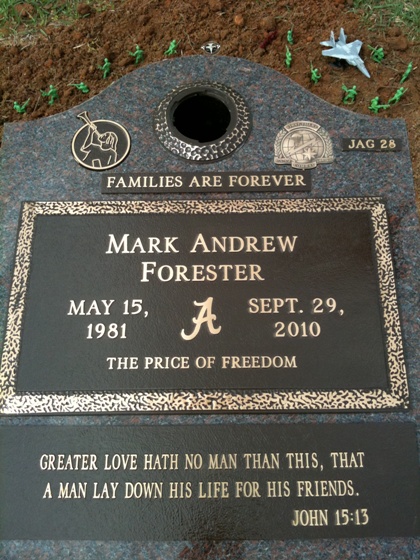 This is the foot marker provided by the military, which lists his Bronze Star Medal and Purple Heart.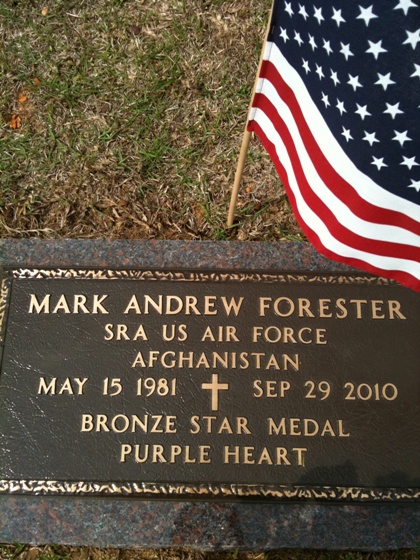 Here is the marker with the flowers in place. Now may you rest in peace Brother.