We first met Capt. Barry Crawford on Sept 29, 2010 shortly after the news of Mark's death was delivered. Barry, and a fellow teammate Sascha, were assigned to be with our family during the process that followed the next nine days. He left a lasting impression on our family.
We are very proud of him for this accomplishment. The Air Force Cross represents the second highest honor for valor in combat. In short, during a 10+ hour firefight in Afghanistan in May 2010, he directed multiple aircraft, which eliminated numerous terrorists, and exposed himself to the enemy many times in order to evacuate the wounded and get his team out of the area safely. During this fight, one of his antenna was hit by a bullet which caused it to strike the back of his neck. He lost several men that day and has been nothing but complimentary to his team for their escape from the enemy fighters.
You can read many more details, as well as see his actual citation by clicking HERE.
You will be amazed at his talent, skill, and mental toughness after ready this article. It's well worth the read.
You can also watch video of the ceremony from the Pentagon by clicking HERE.
Sgt. Mac has additional info on Barry HERE.
He was also interviewed on Fox News last week. Thank you for your service Barry. It's great to see another CCT receive a distinguished award. First There!
Below is Barry receiving his medal from Air Force Chief of Staff Gen. Norton A. Schwartz. He is the same man who awarded Rob Gutierrez his Air Force Cross, and Ish Villegas his Silver Star.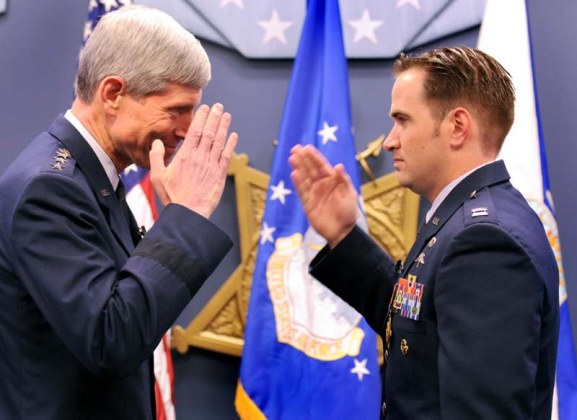 Below is Barry at work.
The Air Force did send their best during our trying time. He definitely went above and beyond to meet our needs and help organize everything surrounding Mark's Angel Flight, funeral, graveside service, missing-man formation flyover, and much more.
We hope you can continue to find inspiration on this site by reading not only about Mark, but about the many others who protect us. They deserve much more respect and appreciation.
Barry is a husband and father of two.