The fourth annual Mark Forester Price of Freedom Race will be Saturday, May 17, 2014, beginning at 8:00 am.
The purpose of this race is to celebrate Mark's life and to raise money for The Mark Forester Foundation.
The race will take place in his hometown of Haleyville, AL. The course is USATF certified by The Tuscaloosa Track Club.
It will begin and end at the Haleyville High School football stadium. The address is:
Haleyville High School
2001 20th Street
Haleyville, AL 35565
8:00 am – 5k begins
9:00 am – 10k begins
Fun run begins when the 10k ends, which will be around 10 am.
For the first time, this year we are offering a "double-dip" option where runners can participate in both the 5k and 10k (can't do same race twice). Price for this is $40.
**UPDATE: on-line registration is closed. You can still register at the race this Saturday.**
Registration:
Click HERE to register via Active.com
Note: there are no additional active.com processing fees to register on line. Register now before prices increase on March 1.
Notice the banner along top and bottom of page titled "Mark's 2014 Race Registration". These buttons will be an easy way to get info and to register for the race from any page on this web site. We hope you plan to attend this special event with us, whether you're a newcomer or repeat runner–we welcome and invite you all.
You can also print out the registration form and mail in. Click the link below to open form:
RACE PRICES GO UP AFTER MARCH 1, SO PLEASE REGISTER EARLY.
If you will be visiting Haleyville for the first time, here is a link with city information. Haleyville Chamber of Commerce
Here are hotel options for the area:
1. The Fuller House Bed & Breakfast – Haleyville. This is a new amenity in town. Has 4 rooms, multiple beds. 205-269-7590. Address: 3315 Newburg Road, Haleyville, AL
2. Imperial Inn (formerly Windwood Inn) – Haleyville. This is an old hotel right in town. Phone 205-486-5205.
3. Hampton Inn – Winfield (27 miles away). Phone 205-487-1270.
4. Best Western – Russellville (27 miles away). Many of Mark's teammates have stayed here for previous events. Phone 256-332-1002.
5. Hampton Inn – Jasper (40 miles). May be best for those coming from the south (if you can't stay in Haleyville). Phone 205-221-3334.
T-shirts this year are once again provided by T-Riffic Tees. We thank them for their support.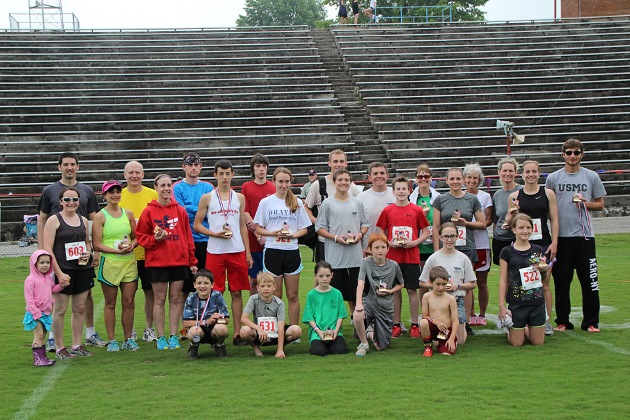 Regular supporters and Piggly Wiggly lovers Yvette and Caroline after last year's race.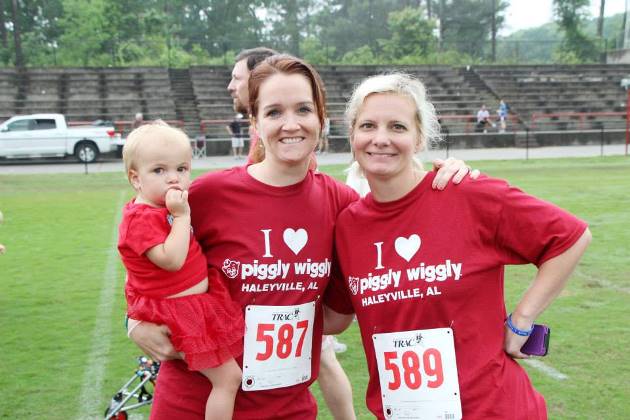 Route for the 5K is below:
Route for the 10K is below:
We are privileged to have Cody Jackson, aka One Boy USO, be in attendance at Mark's race this year. Cody has made it his personal mission to thank as many of our troops as he can, either by shaking their hand, welcoming them home, or sending packages to those still deployed. This 11-year old has donated over 2000 hours of his time making this happen.
He has been on several major national media shows and often spends time at Atlanta Hartsfield International Airport welcoming home our troops. Cody's web site sums up his feeling well: "The kindness of strangers isn't dead, it is alive and well, you just have to shake a hero's hand to find it."
Visit Cody's web site, One Boy USO