Mom's best friend Sylvia Knight had this ring made for her from one of the empty shells from Mark's 21-gun salute, which took place at the cemetery after the funeral. The designer called it "Guns n' Roses". Mom loves this ring.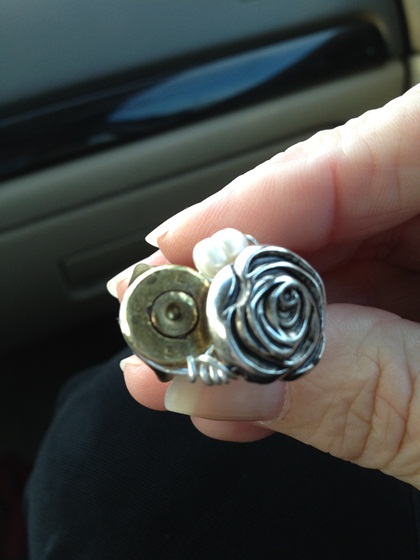 That name reminded mom of the below picture of Mark and George Earhart playing air guitar to Gun n' Roses one day during air drops in Afghanistan. They were playing for ice cream. Mark was passionate about getting ice cream dropped at Cobra. He talked about it often, but it never came. Mom thought she had it figured out how he could make his own–she could get him everything but eggs and ice. Problem was Mark couldn't get ice. Unfortunately, ice cream was never dropped at Cobra until early October 2010, just after Mark's death; and then it was with his name on it.
He and George were having a good time goofing off this day. And if you can't read his shirt, it says "Mr. Happy".