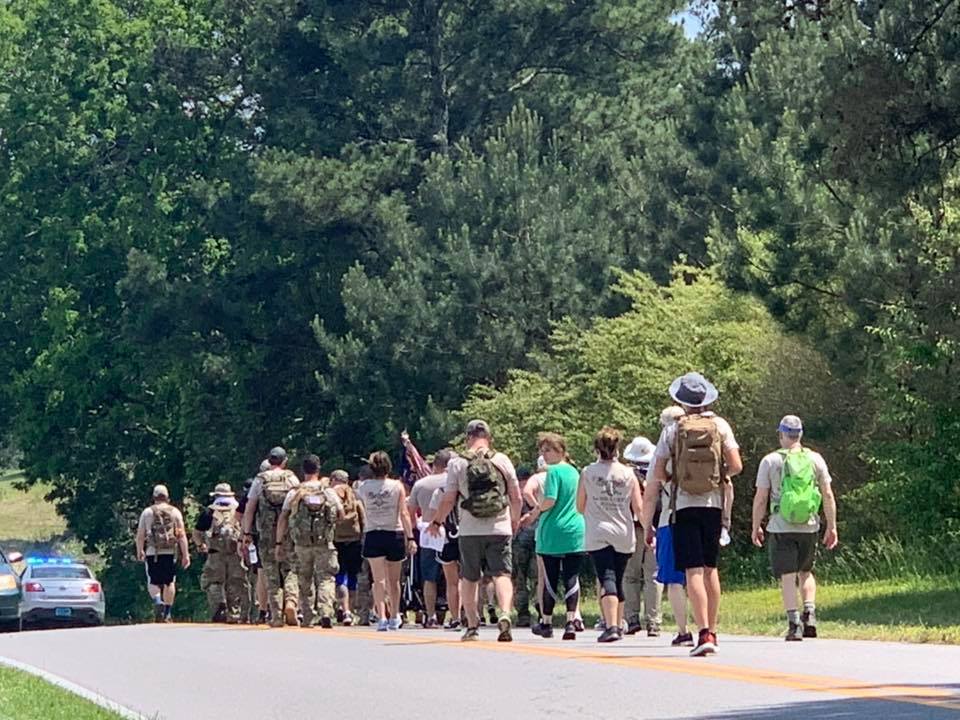 **UPDATE: ONLINE REGISTRATION IS CLOSED. YOU CAN STILL SIGN UP DAY OF, MAY 20, 2023, AT HALEYVILLE HIGH SCHOOL MAIN PARKING LOT, 5:30 AM.**
We are glad to be back together in Haleyville, AL for the first time since 2019.
You can expect the same walk as we've had previous years. We will start at Haleyville High School, bus to Winston Memorial Cemetery, pump out some memorial pushups, then get walking.
All previous years we had anywhere from 35-75 walkers. We hope that the three year in-person break doesn't deter too many from coming back.
Begins at 6:00 am sharp at Haleyville High School (please be there by 5:45).
The route will begin and end at Haleyville High School. This walk is about remembering our brother on his birthday, and putting our bodies thru some pain in his honor. We welcome anyone who wants to participate. The entry fee is $40 and supports The Mark Forester Foundation. We will carry the same baton as previous years.
Note: Haleyville City Schools employees entry fee is only $20.
We anticipate the walk taking about 10.5 hours. There will be staging areas every 5 to 8 miles with water.
Download the walk route below:
Here are a few more specifics and suggestions about the walk:
-To be clear, the Half/5k/1 mile fun run takes place this day too. The first race begins at 9:00 am. You CAN'T participate in the walk and the run. They are completely separate events
-Parking for the walk will be at the Haleyville High School main lot near the electronic sign on 20th Street
-If you plan to participate, please register on-line so that we can prepare adequately. Registration link is above
-Meet by 5:45 am at electronic sign at Haleyville High School parking lot. Then we'll shuttle to cemetery to begin.
-There will be staging areas every 5-8 miles to eat a snack, drink, change socks, etc. We anticipate making each stop at the staging areas as quick as possible–10-15 minutes
-We will have a police escort. If anyone gets too far behind the group, they will need to be picked up by the trailing car and taken to the next staging area. If we get too spread out, the police are concerned for our safety
-We suggest bringing socks to change at every staging area
-If you have valuables and don't know where to keep them, you can put them in the trailing car, which will follow the group the entire walk
-You need to bring your own blister kit and first aid kit. Also, if you want power/energy bars, you will need to bring your own–ours will be limited. We will definitely provide water, Gatorade, some fruit, and lunch
-The weather this time of year can be very comfortable or hot; but I'd recommend to be prepared for some heat and humidity
For more details about the event, how to train and what to expect, you can read this article by a 12-year participant and organizer of the JAG 28 Birthday Walk.
If you will be visiting Haleyville for the first time, here is a link with city information. Haleyville Chamber of Commerce
For all military participating in the walk or race: you have a place to stay at the city storm shelter, just like the last few years. However, if there is severe weather, it has to be opened to the public.
Here are hotel options for the area:

1. Best Western – Russellville (27 miles away). Most popular option previous years. Phone 256-332-1002.
2. Hampton Inn – Winfield (27 miles away). Phone 205-487-1270.
3. Hampton Inn – Jasper (40 miles away). May be best for those coming from the south (if you don't stay in Haleyville). Phone 205-221-3334.
4. Holiday Inn – Guin (25 miles away).
6. Also check out some Airbnb's. There are a few in the area (i.e. Cozy Carter Cabin).