Provo, UT-
The Brigham Young University Army and Air Force ROTC are joining forces for a 9/11 ceremony at the Varsity Theater in the Wilkinson Student Center at 12:00 noon on September 11, 2014. This year Mark will be among those honored and Thad will be speaking. The event is open to the public. Thad will speak about 35 mins, followed by a question and answer period.
Mark will also be recognized at the BYU vs. Houston football game that night. Look for his picture to be displayed on the jumbo tron and a narrative read over the PA about Mark and his final act of heroism on earth. The university will have a patriotic theme at the game, including a 100-yard sized American flag. We hope that the Air Force flyover before the game happens and that ESPN makes the right decision to air the flyover.
Below is a picture from pre-game BYU vs. Houston.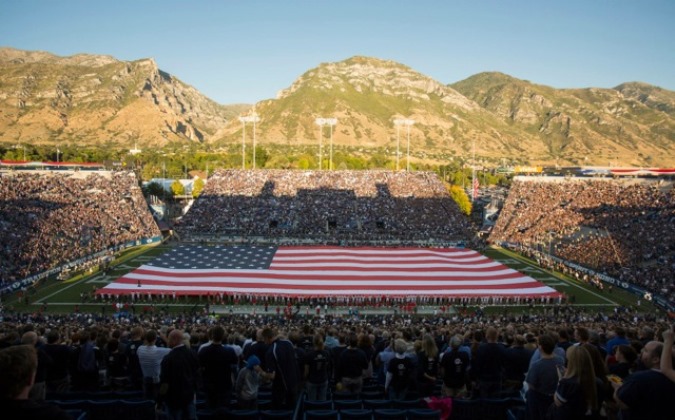 Below are pictures from the Memorial Rose Laying Ceremony at BYU on the morning of 9/11. Each of the four roses represents the hijacked planes that went down: 1 in the North and South Towers of World Trade Center, 1 in the Pentagon, and 1 in the Pennsylvania field.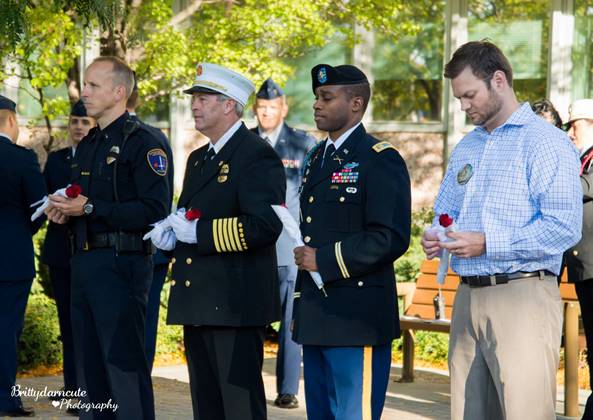 From the 3 Volley Salute: