From Speedway Media:
Regan Smith, who strapped into the No. 43 Ford for the Monster Energy Open, will once again fill in for the injured Aric Almirola in this weekend's Coca-Cola 600 at Charlotte Motor Speedway. Smith drove to a fourth-place finish in the Monster Energy Open after just 85 minutes of practice with the Richard Petty Motorsports team. Smith will join the No. 43 team in representing the U.S. Air Force for Memorial Day weekend and will pay tribute to fallen Senior Airmen Mark Forester in the 600 Miles of Remembrance.
Smith has 11 Monster Energy Series starts at the 1.5-mile track with a best finish of eighth in the spring of 2011. He has 11 XFINITY starts at Charlotte, where he tallied three Top-Five and six Top-10 finishes. He scored his best finish of fourth in the spring of 2015.
600 Miles of Remembrance
The No. 43 Air Force Ford will bear the name of Forester, a combat controller killed in action in Afghanistan. He was deployed to Forward Operating Base Cobra as a Combat Controller in May 2010 and awarded the Bronze Star Medal with Valor for his heroic actions while engaged in ground combat against the enemy on August 6, 2010. Forester was fatally wounded during combat on September 29, 2010. He was posthumously awarded the Silver Star for his actions during that fateful battle, and the Purple Heart for paying the ultimate price for freedom. He was killed in action alongside one of his Special Forces teammates. JAG 28, which was his call sign and the only name many pilots knew him by, was immediately retired after his death.
Forester's sister, Mrs. Terri Cox and her husband, Barry, will be in attendance at the race. The Vice Chief of Staff of the U.S. Air Force, General Stephen Wilson will also be in attendance. As Vice Chief, General Wilson presides over the Air Staff and serves as a member of the Joint Chiefs of Staff Requirements Oversight Council and Deputy Advisory Working Group. He assists the Chief of Staff with organizing, training, and equipping of 660,000 active duty, Guard, Reserve and civilian forces serving in the United States and overseas.
"To me, there are a lot of cool things about helping out again this weekend," said Smith. "Being able to represent the Air Force on Memorial Day weekend and show appreciation to those who make the ultimate sacrifice is very special to me. I'm honored to race with Senior Airmen Mark Forester on the car and pay tribute to his sacrifice. As I said many times last weekend, to get to drive 'The King's' 43 car means so much to me. The Coca-Cola 600 is one of my favorite races of the year, and Sunday is the coolest motorsports day. It will be a lot more fun being a part of such an iconic day than just being a spectator for all of the races."
"We're thrilled to be able to honor Senior Airman Mark Forester on the No. 43 Air Force Ford for the 600 Miles of Remembrance," said Richard Petty. "He gave the ultimate sacrifice, and because of his sacrifice and the sacrifice of his family, we are able to race each weekend. We're humbled we have the opportunity to give back to Mark's family and honor Mark during Memorial Day weekend."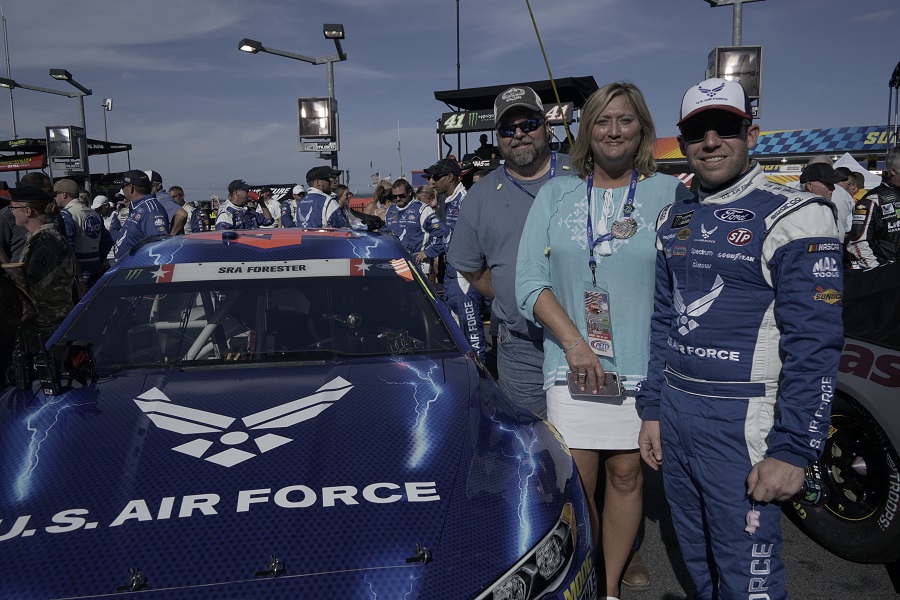 Viewership from the race:
* The Coca-Cola 600 was the second most viewed sporting event of the
weekend, with 12.5M unique TV viewers, 1.5M digital viewers, and 30.7M
social impressions on race day.
* According to Google, "NASCAR" was the most-searched term on their site on
Sunday with over 200,000 searches
* According to Nielsen Social, the Coca-Cola 600 peaked as the most
posted-about TV program during the broadcast window