We first met Matt at Dover AFB the night Bobby escorted Mark's body home from Afghanistan on 30 September 2010. Even though information was still incomplete at that time, he pulled us aside and told is he wanted to help answer any questions he could.
After talking and spending some time with Matt the last several months, I felt it was necessary for the world to know of this Patriot, and his drive and desire to protect our freedoms.
First of all, Matt is a Combat Controller, like Mark. And since he had been deployed to Cobra two times, he helped train and prepare Mark for his deployment to that same location.
When one of his best friends, and teammates, Adam Servais, was KIA in August 2006, he became overwhelmed with the desire to take the fight to the enemy. Then another teammate, Shaun Meadows, received severe injuries from an IED, so he was inspired even more to fight the Taliban.
After three deployments (two of which to Cobra), he's had three knee surgeries due to injuries down range. Even after these injuries, he pushed for waivers so he could continue to fight our nation's enemies. Matt believes the enemies in the area around Firebase Cobra are the best Afghanistan has to offer.
Since Matt isn't a spring chicken anymore, he said it's a constant struggle with the desire to go back and fight. It's hard for him to be around so many others who are going, and he not be able to.
We salute you Matt, for your willingness to serve our contry and help protect our freedoms. Thanks for taking part in the 30-mile Birthday Walk for Mark last month. We look forward to having you back next year for 31 miles. We'll need you to take care of our feet blisters again too.
Pictured below is Matt, while deployed at Cobra, and his dog (and Mark's) Eddie, although known as 'Edward' when in trouble. Matt spent a lot of time with Eddie, and Eddie witnessed several firefights while Matt was there, and afterwards; and probably with Mark as well. Mark loved this dog too, and according to Matt, Eddie fathered many puppies around Firebase Cobra.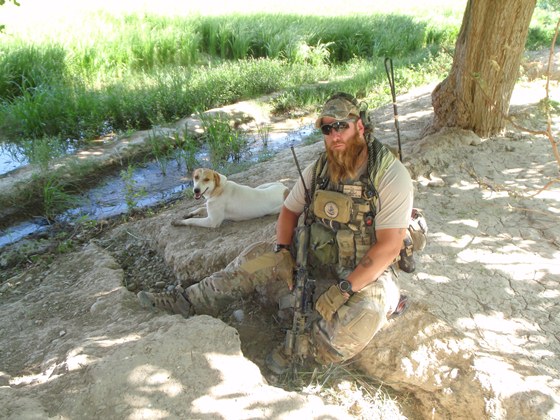 Here is Matt finishing the 30-mile Birthday Walk for Mark on May 14. Notice his cap with 'SS' in remembrance of his teammate Adam Servais.