July 7 was the memorial service for Mark and Danny Sanchez at the CCT School at Pope Air Field (formerly Pope AFB). The official event was brief and consisted of the families unveiling the name plates on the memorial of all fallen Combat Controllers. There were 52 names before Mark and Danny's. Short remarks were given by their teammates. George Earhart spoke about Mark. He was on that final mission with him. They took a "before" picture together and planned an "after" picture because they knew it was going to be a rough few days. We have that picture of them together on the morning of 28 Sept.
Below are some of Mark's teammates that we've gotten to know well, gathered around the memorial at the CCT School. They are Bryan, Bobby, Sascha, Matt, George, and Ish. Probably the best part of the trip was getting to spend time with them. Bobby returned from another deployment a few weeks ago. George is still going through intense therapy to recover from his injuries just a few days after Mark's death. Ish is recovering also, and preparing for surgeries, due to injuries down range.
We also attended the CCT Graduation. It was only 3 years ago that Mark graduated. We continue to learn the multi-skills these men acquire. They are prepared for the harshest situations and also various humanitarian assignments.
During these events we also spent some time with Danny's mom, Yvette. It was good to see her again, along with his fiance. Danny was based from the 23 STS in Florida. He was killed in combat about 2 weeks before Mark.
Mark and Danny's names were added to the lower left of the memorial. They will never be forgotten, as these names are repeated many times during their training.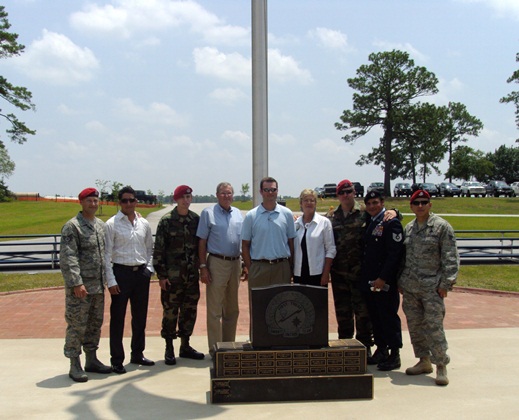 It's customary to perform memorial push ups for fallen comrades. This took place at the end of the memorial. It was powerful to be part of this.
Interestingly, these push ups were done about 2:00 pm and it was hot. Some guys burned their hands on the pavement during the exercise. But, this is common in their community because they are often required to drop 'em anytime, anywhere.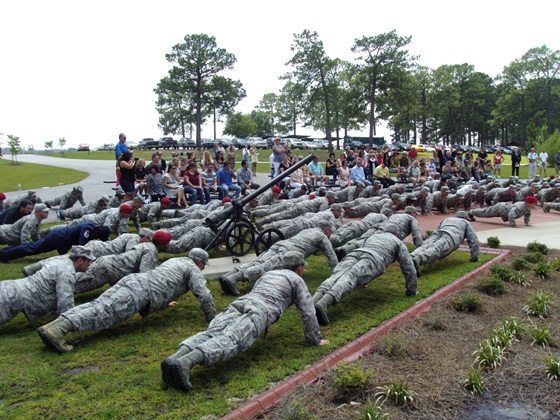 A local gunsmith, Red, presented us with this M4. Red built this gun custom for Mark. Mark took it to Afghanistan and planned to use it. However it never worked properly so he planned to bring it home and get it fixed. Red took it upon himself to fix it. He also engraved Mark's name. We are thankful to Mark's teammates who helped facilitate this to happen and to Red for doing this for the family.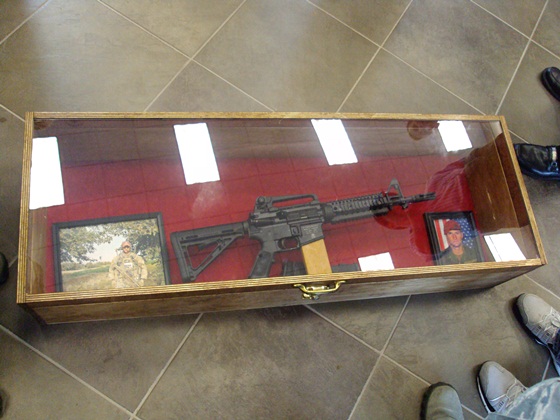 Teammates paying their respects at the memorial.