On May 27, 2012 we had the privilege of attending the biggest Memorial Day celebration on the west coast. It was in Manteca, CA, sponsored by The Place of Refuge Church and Welcome Home Heroes Foundation. We were amazed at the support from the city and community and the honor shown to Mark, his family, other Gold Star families, and veterans.
Pictured below is the 11th panel of their "traveling panel" tribute. It was dedicated to Mark. The other names on the panel are all who have fallen in the war during 2011. The panel is an impressive sight and is backlit, so it stands out at night.
The caption at the bottom of the panel reads: "Photo of Air Force Senior Airman Mark A. Forester age 29, of Haleyville, AL, was assigned to the 21st Special Tactics Squadron, Pope Air Force Base, NC, died Sept 29, 2010 in Jangalak Village, Afghanistan, while conducting combat operations in Uruzgan province. Forester was a devout Mormon and believed strongly in serving his country."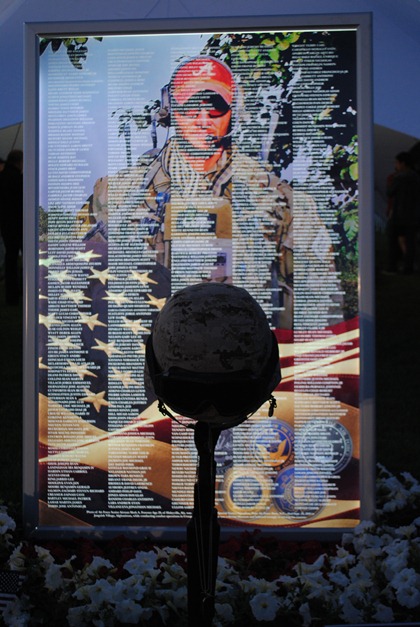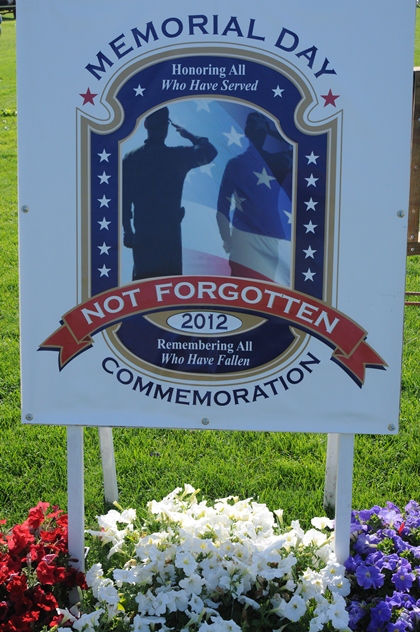 Mom and dad placing the wreath near Mark's panel.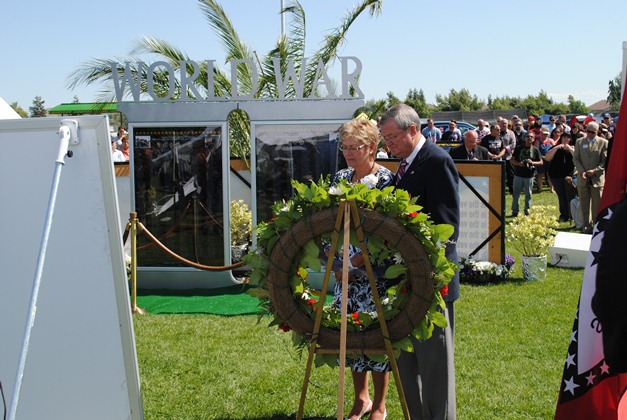 Close to 7000 crosses in the park, representing each life lost during the wars in Iraq and Afghanistan. Another very impressive sight.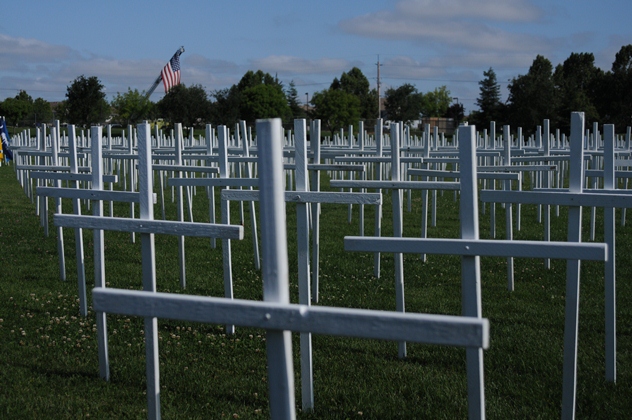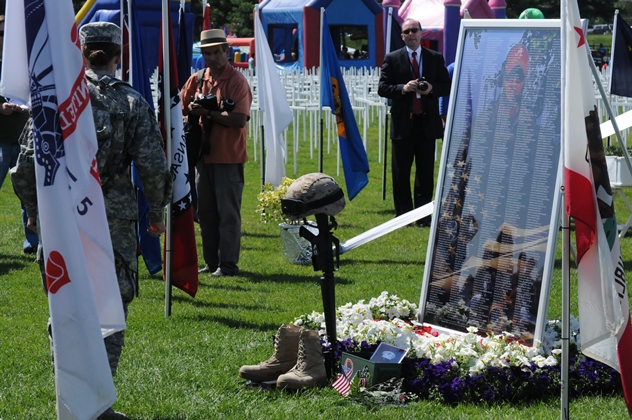 One of the showcases with their local fallen heroes. Unfortunately there were several of these.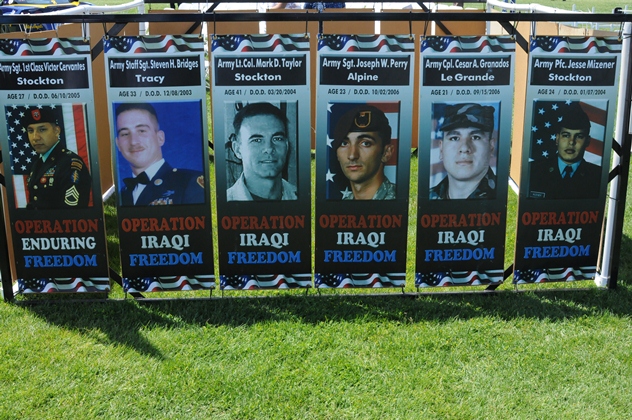 Pastor Mike Dillman, who works all year to make this event happen. He slept in the park next to the panels, just to show his love and appreciation to the fallen represented at the display. He is a Vietnam vet and received an unfriendly welcome home. He vowed to not let that happen again.
He said as an Army Chaplain in Vietnam, he opened the body bags of thousands of servicemen. When he heard the story of Mark wrapping his body armor in the American flag, he was blown away because he'd never seen that before.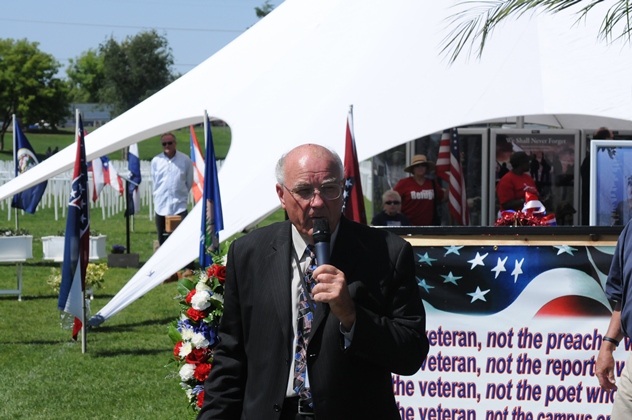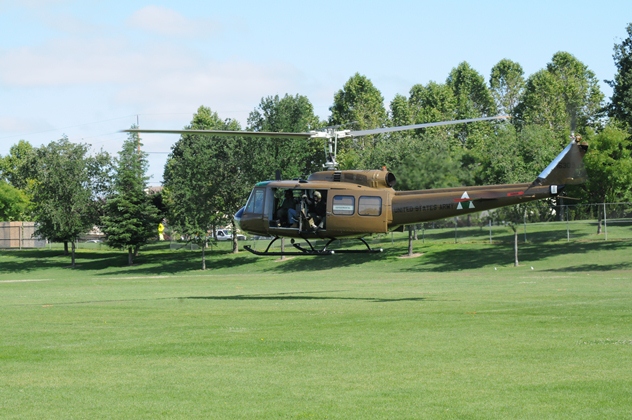 We received a proclamation from the city of Tracy, thanking us for Mark's service. After this I was able to speak to the crowd. I spoke of Mark's love of country, Silver Star, and his love for the people of the central valley, since he served as a full time missionary in the Oakland area in 2000-2002.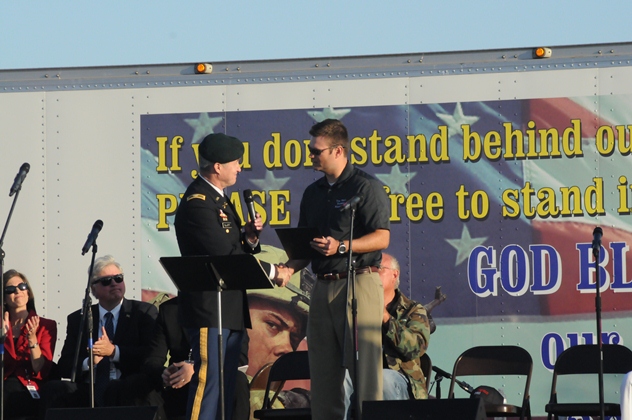 Lt. Col Frank Latt also addressed the crowd.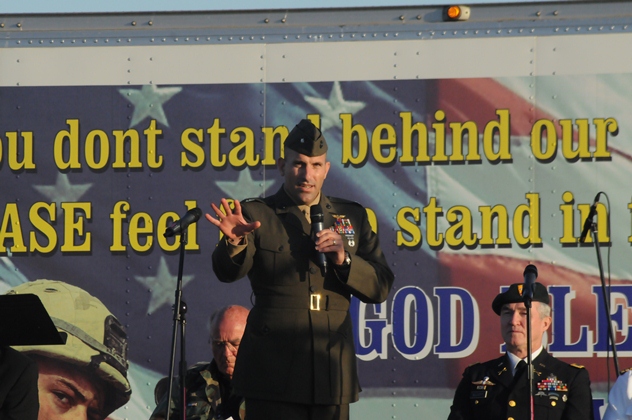 Phil Waterford presenting Pastor Mike Dillman with a new F-150 truck. This was a complete surprise to him. Phil has been a big supporter of this event for several years and said that Mike deserved it after the many years and all the heart and soul he puts into this Memorial Day ceremony.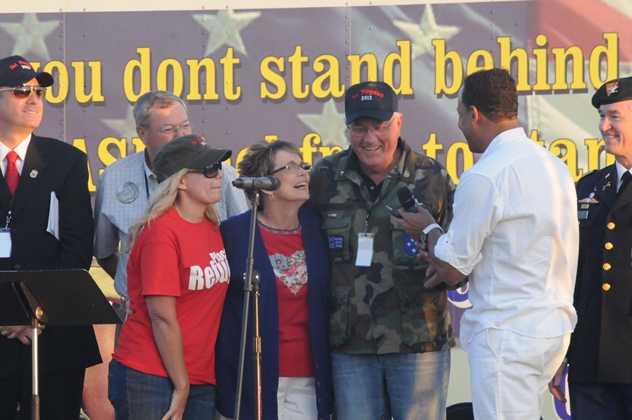 Phil Waterford with Earl "The Pearl" Watson. He was part of Company C, 1317th Engineers, a black regiment used in support of George Patton's 3rd Army in WWII. He is now the only survivor of that group. Watson went on to fight in the Battle of the Bulge, the largest single battle the U.S. has ever fought.
His story is remarkable, from being a restroom attendant at Knickerbocker Hotel to becoming friends with Ronald Reagan, John Wayne and Gene Autry, all who frequented the Hollywood hotel. He told the actors of his service during the war. Then one day Reagan along with Wayne and Autry went to the Knickerbocker management and complained that Watson, a war hero, should have a better job than restroom attendant. He then became the doorman.
Earl is a great American and you'll find his story Intriguing.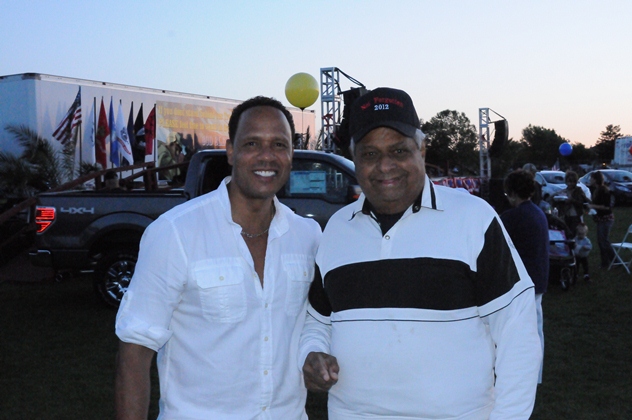 White dove release.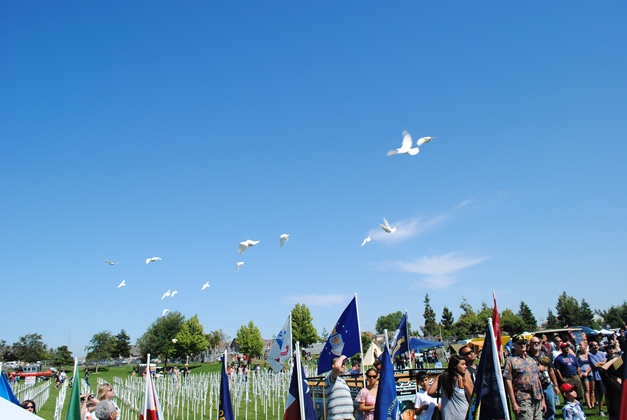 Impressive C-17 flyover. He was only about 1000 feet.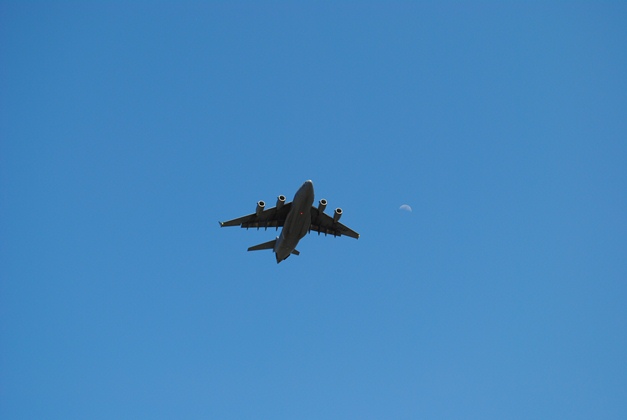 We were also able to visit the mission home and office were Mark served when he was a missionary for The Church of Jesus Christ of Latter-day Saints. This picture was in Mark's last apartment before coming home in 2002.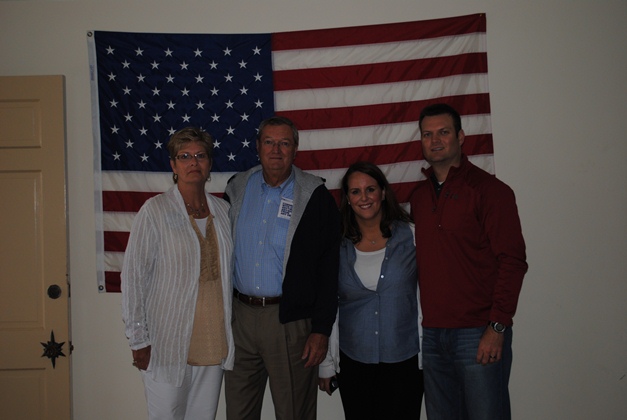 Mom and dad in front of the Oakland Temple, near the mission office where Mark served. It is a beautiful temple and grounds. It also provides an incredible view of the Oakland and San Francisco sky lines.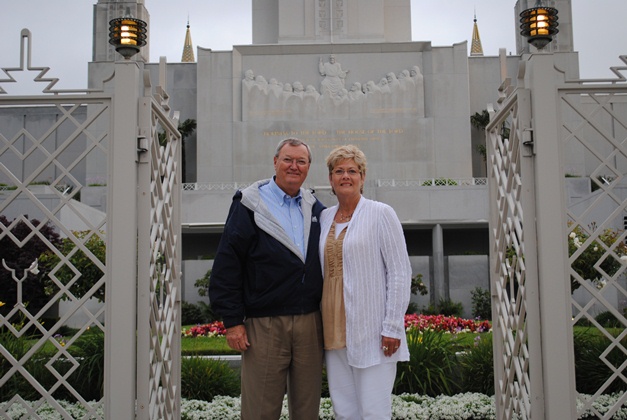 We will forever be grateful to the people of Manteca for this event. They honored Mark in a way we couldn't have imagined. They also honored all our nations heroes, both living and dead, in a way that few places do. We really felt Manteca was the most patriotic city in the country after these events. There was a great feeling there and we hope to attend again. If you live anywhere near Manteca, CA, we suggest you find a way to attend next year. It will bless you and your family's lives.