We appreciate every single one of our sponsors. Without the generosity of these companies, organizations, and individuals in our community; this race, walk, and events surrounding it would not be possible. Please give your business to these patriotic companies and organizations whenever possible. They support our military and our fallen. And once again, special thanks to the City of Haleyville and the Haleyville City Schools for all their support and accommodations.
Affinity Day Spa – Florence
Allan and Nancy Cunningham – Tuscaloosa
Andy Israel – Birmingham
Bennett Racing/Crimson Casual – Haleyville
Bob and Sandy Jones – Northport
Borden Dental – Haleyville
Campbell Vision Center – Russellville
Classic Closets – Haleyville
Diddly Dots – Haleyville
Dixie Den – Haleyville
Door Components – Haleyville
Dr. Jerry Harrison Family Practice – Haleyville
Dr. Richard and Joyce Gurich – Tuscaloosa
First National Bank – Haleyville
Frankie Mann – Tuscaloosa
Furniture Supply – Haleyville
Galley Restaurant – Haleyville
Glass House Car Wash – Haleyville
Global Pharmacy Family Medical – Haleyville
Goar's Big Star – Haleyville
Guthrie's/Traxx – Haleyville
Hadco Metal Trading – Mellville, NY
H & H Technologies – Cullman
Hughes Lumber – Haleyville
Jerry and Ada Moss – Northport
Jerry and Tilda Mims – Northport
JMS Investments – Haleyville
Jon and Christeen Corson – Tuscaloosa
Katie Taylor Construction – Pensacola, FL
Lawson Real Estate – Haleyville
Lion's Den – Haleyville
Lowe Mobley Lowe – Haleyville
May's Wholesale – Haleyville
Michael and Lynda Case – Tuscaloosa
Modern Study Club – Haleyville
Northwest Alabamian – Haleyville
Piggly Wiggly – Haleyville
PSI – Florence
Richard and Kimberly Harwood – Northport
Scott's Quick Mart – Haleyville
Signs of the Time – Haleyville
Southern Energy – Addison
Sunshine Homes – Red Bay
Tee Town Screenprints – Tuscaloosa
The Rose Manor Companies – Haleyville
Traders and Farmers Bank – Haleyville
Tuscaloosa Nephrology Associates, P.C. – Tuscaloosa
Young's Welding Supply – Haleyville
We want to pay special attention to the following three groups below.
Dr. Richard and Joyce Gurich of Tuscaloosa Nephrology Associates, P.C. They were very supportive of these events and are two of the most giving people we know. They are pictured below with a small showing of appreciation from The Mark Forester Foundation.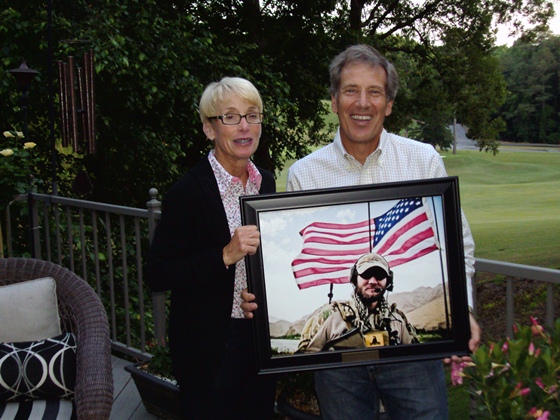 Pictured are (L to R): Brad, Tyler, Bret, and Bo Knight. They are long-time close family friends who we want to give special thanks to for their donation to The Mark Forester Foundation and their help with the Race and Memorial Walk. They were presented with this picture of Mark in appreciation for their generosity. In addition to being family friends, they represent Door Components LLC of Haleyville.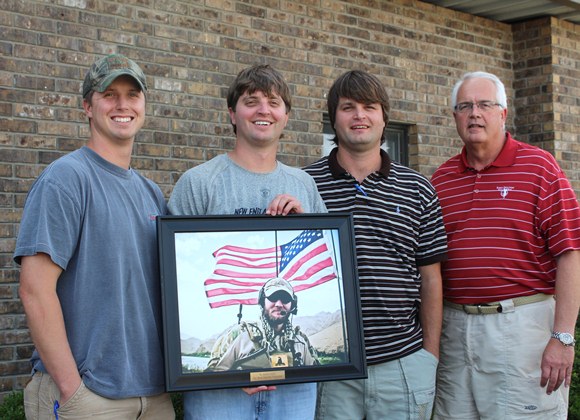 Below is Andy Israel of Merrill Lynch. He and his company were big supporters of the race. Andy is from Haleyville and completed the 10k.