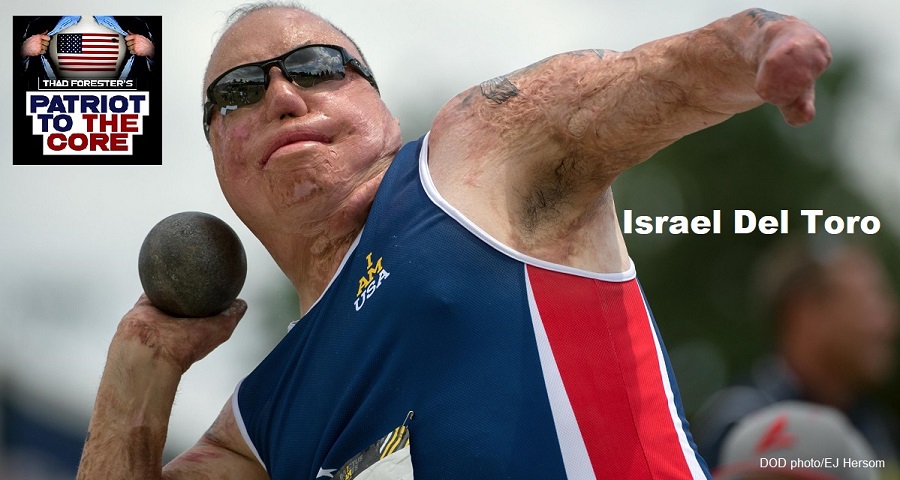 You can listen to this interview on Patriot to the Core podcast at below link:
Israel Del Toro (aka DT) was angry that he wasn't left to die on the battlefield.  Later when he saw his face in the hospital, he went thru his darkest hour.
After losing his parents as a young boy, DT joined the Air Force and became a Tactical Air Control Party member.  Then, in 2005, his vehicle hit a roadside bomb and over 80% of his body was severely burned (third degree) and he lost most of his fingers.
The doctors told him he would never breath on his own and wouldn't walk again.  Two months later he walked out of the hospital unassisted.  But the moment of truth was yet to come.  How would his son react after seeing his dad, wrapped up like a mummy, for the first time since deploying?
His reaction; he hugged and squeezed his dad like he never had.  DT said that was the greatest feeling in the world.  All his son wanted was his dad.
Del Toro has accomplished much since that day:  he's the only person to return to active duty in the Air Force after being 100% disabled, was awarded the Pat Tillman Award for Service in 2017, jumped out of planes, won medals in the Invictus Games, and become a mentor and role model to many.
Follow him on social:
@ideltoro21 on Twitter
@idt21 on Instagram
*Please consider visiting my Patreon page where you can support and get something in return. 
Copyright 2018 Thad Forester
http://www.patriottothecore.com
email questions to thad@patriottothecore.com
Rambo Theme Song – Jerry Goldsmith
*PTC is now on Patreon.  If you like what you're hearing please check out how you can help the cause so I can provide quality content and keep on keeping on!