Thursday, July 21, we were honored to be part of the Tennessee Smokies game at what was the conclusion of a two month campaign initiated by Mick Gillispie and Trey McNutt to raise money for The Mark Forester Foundation. When we first entered the stadium, there was a big picture of Mark, along with his web site address on the score board.
Before the game, we were able to speak to the team about Mark. The entire team and staff now have the blue "Be Like Mark" bracelets. At the beginning of the sixth inning, they presented us with a check for the money they've raised for the foundation. They also held a silent auction at the game to raise even more money.
The team wore special camo caps during the game, then they auctioned off the caps to raise more money. One of Mark's nephews, Nick, threw out one of the first pitches and he was impressive.
I was also able to talk on the radio with Mick during his broadcast of the game. We can't thank Mick and Trey enough for their passion of sharing Mark's name and his foundation. Mick said he really feels he was meant to do this. And he really wants to take part in presenting the scholarship next year at Awards Day in Haleyville.
We had a great time hanging out with Mick and Trey during the last few innings of the game. Unfortunately, the Smokies lost, but regardless, we are now fans of the team. Also, we are very grateful to the people of east Tennessee who followed the Smokies' lead and supported Mark's foundation. We know more donations were made yesterday, even by Smokies staff. In total, $2500 were raised for the foundation. With this donation, the possibility of two scholarships will be available to Haleyville High students at next year's Awards Day.
We hope to see both Mick and Trey as part of the Chicago Cubs organization in the very near future.
Pictured below are Mick, Thad, Ray, Trey before the sixth inning.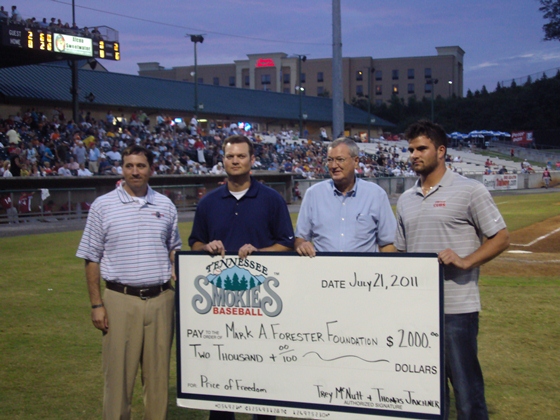 Hanging out during the game.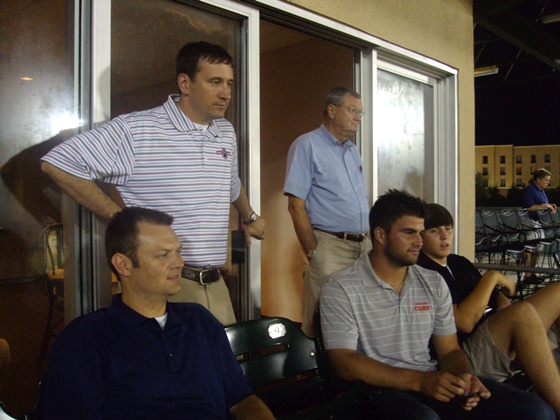 Click HERE for article and video from the game broadcast by the Knoxville NBC affiliate WBIR 10 News. Thanks to Chris Kyle for his coverage of the story and night.