Jim Meadows was the 2015 recipient of The Mark Forester Memorial Award for Excellence presented at The University of Alabama, thru the Campus Veterans Association.
Jim is the third generation in his family to serve in the Air Force. He served from 1991-1995 during Operation Desert Storm and Operation Desert Shield.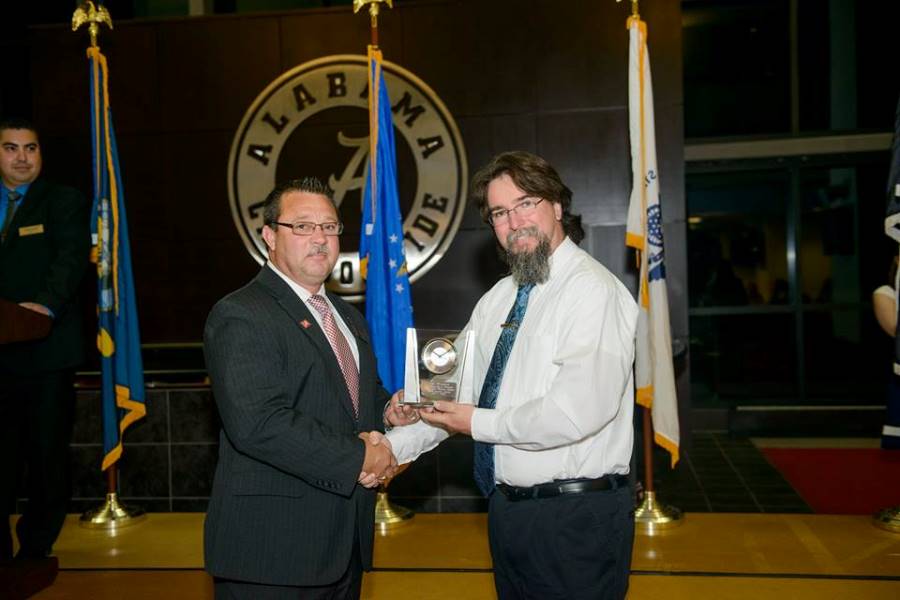 In his own words:
I am proud of my service. I was raised with a sense of duty to others. Military service always seemed a part of my plan even when my plan for life wasn't exactly established. I grew up with my father's tales of being a Vietnam Era veteran and being disrespected by many because of his choice to serve. When I went into the service, I had no expectations of being praised for my choice, in fact I expected disdain. The Gulf War was relatively popular, at least in my home town, so when I came home on leave, it was disconcerting to have someone pay for my lunch in gratitude of my service. I am not a "war hero" in my eyes. I served and served honorably. I have friends of mine who have permanent injuries or who didn't come home. I hold some semblance of "survivor guilt" and that is one of the things that drives me in my career path as a Social Worker.
After my discharge, I found myself working in some different social service organizations in my then home state of Arizona. It was a calling rather than a career choice. While I have never worked for the VA directly, it has always seemed that I have been the employee who most often works with the veterans my agencies have served. After a few years working in that field, I realized that I was at home and started my degree in Social Work in earnest. I worked full time while taking classes, but had not finished when my wife was offered her dream job at The University of Alabama. It was here that I have continued my education and adopted Alabama as home.
My sense of duty inspires me to serve others. It inspired me to enlist. It inspires me to help others. I am finishing my Master's in Social Work this summer and then continuing toward my PhD in social work. A large part of my desire to get the PhD is so that I am able to help people in some way, even if I never have direct contact with them, through my research or through teaching the next generation of social workers.
When I came to Alabama, I didn't know anyone other than my family. The Campus Veteran's Association and the Veteran and Military Affairs Office have been places that have made it easier for me to engage with the Tuscaloosa and UA community. I am from a different generation than most of my classmates so felt quite a bit out of touch with the community. The camaraderie of other veterans and their families is invaluable. A veteran is by definition a non-traditional student. A veteran has done something more than graduated high school and moved to college. A veteran has made a commitment to something larger than himself. A veteran has experienced things which age him beyond his years. Those experiences distanced me from my classmates as much as the age difference. With the Campus Veteran's Association, the experiences were shared, and the age was far less significant.
Mark Forester and I are not from the same generation of serviceman, yet it seems that there is a shared sense of duty and honor. Receiving The Mark Forester Memorial Award for Excellence is probably the most significant recognition I have received. The unsolicited recognition from other citizen-soldiers of who I am-as a veteran, student, and friend means more than I can effectively put into words. I am proud to be this year's recipient and shall always strive to be worthy of being connected with Mark's memory.
James T. Meadows
USAF 1991-1995
PhD student
The University of Alabama
BSW class of 2013, MSW class of 2015