On April 27, 2013 the University of Alabama Campus Veterans Association (CVA) held it's annual banquet. The recipient of the third annual "Mark Forester Memorial Award for Excellence" was Michael Walker. He is a 2013 graduate of UA with a Masters in Social Work. Michael shared his feelings of receiving the award:
"Make no mistake, I felt incredibly honored to be awarded the Mark Forester Award for Excellence. Throughout my personal and professional endeavors, I will strive to put others' needs before my own; while also carrying on the spirit of the award."
Michael is currently working with a Vet Center in Fresno, CA as a counselor to combat veterans; the majority of which have been diagnosed with PTSD.
He is pictured below with the previous two award recipients, Will Suclupe (left) and Christopher Duke (right).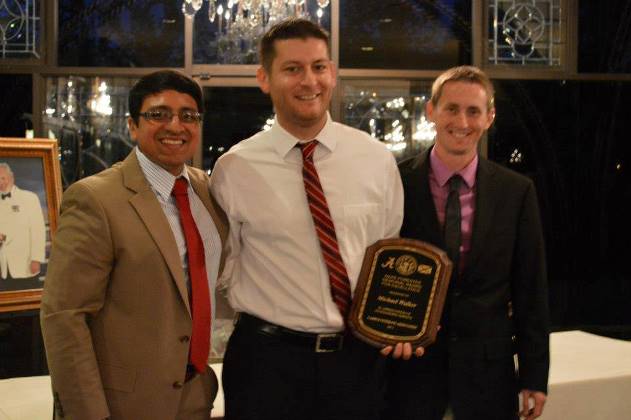 We asked Michael to tell us specifics about his military and educational career. Here is what he says:
"I come from a Navy family and did most of my growing up in San Diego, CA. My father is a retired US Navy Captain (Samuel Walker). In 2004, I enlisted in the Army as a member of the Veterinary Corps. While on active duty was on I was stationed at NSA Mid-South, USAG – Heidelberg, USAG – Mannheim, and Fort Lee. While in Germany, I was assigned to the 64th MED DET (Veterinary Services). We deployed to Iraq in DEC of 2008 and returned in DEC of 2009. While in Iraq, I was promoted to Squad Leader and my squad was responsible for the food safety and defense program for 23 facilities across 15 military installations located throughout Baghdad, Iraq and establishing and managing the newest Veterinary Treatment Facility (VTF) in the Iraqi Operational Area, which provided medical and surgical care to over 45% of the total military working dog population in Iraq. While on active duty, I earned my Bachelors of Social Work from the University of Memphis.
After exiting the Army in August of 2011, I began my graduate coursework at the University of Alabama. While at the University of Alabama, I worked with the VITAL Program from Sep 2011 to Apr 2013. I also served as the Assistant Coach for the University of Alabama Men's Lacrosse team for the 2012 season and was the Head Coach for the 2013 season. In May of 2013, I graduated from the University of Alabama with a Masters of Social Work with a 4.0 GPA. After serving as a Non-Commissioned Officer for most of my time in the Army, I have developed a deep desire to help my fellow brothers and sisters in arms. With that mentality, I have returned to my home state after a 9 year break and have taken a job as a Readjustment Counselor at the Fresno Vet Center. I would also like to acknowledge my family and wife who have been extremely supportive throughout my military and academic endeavors. While in Germany, I met Christina Kessler who is a German national and to whom I have been married since Mar 2012.
I completed my service with: Army Commendation Medal (x3), Army Achievement Medal (x2), Meritorious Unit Citation, Army Good Conduct Award (x2), Iraq Campaign Medal w/ Campaign Star (x2), Non-Commissioned Officer Professional Development Ribbon (x2), Military Outstanding Volunteer Service Medal, and German Armed Forces Badge for Weapons Proficiency (Gold)."

We sincerely thank Michael for his dedication to country, family, and education; and for humbly accepting this award in Mark's name. He is a veteran and a well-rounded son and husband.