This past weekend, we had a team of 21 participate in Tough Mudder in Georgia. This event raises money for Wounded Warrior Project. We chose to run in honor or Mark, Johnnie Yellock II, and Emmett Norris.
Mark, who paid the ultimate price for freedom.
Johnnie, who was severely wounded by an IED attack in July. He is making great progress and had his halo removed from his leg last week.
Baby Emmett, who is our friends Stephen and Jill Norris' baby, was born January 18, 2012. He had critical health problems that immediately put him in NICU and left him on life support for several days. We are amazed to see his progress and that he was released from the hospital today.
The picture below is our team, called 'Desk Jobs'. Most of the team consisted of the Norris family. Obviously this was taken before the race because after 11+ miles, 27 obstacles, cold and windy conditions, and much cold water and mud, we were smoked. It was all worth it to do in their honor. We suffered, but nothing compared to what they went thru.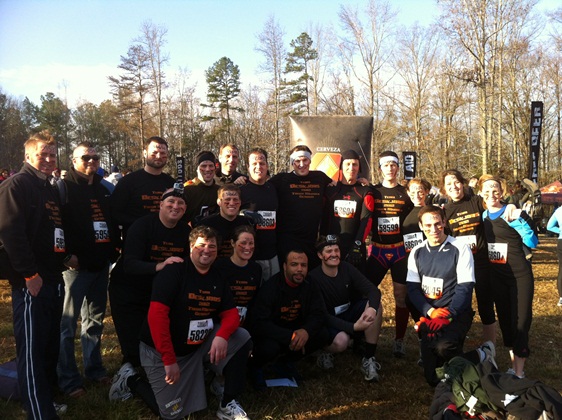 This is the back of our shirts.
We met an Air Force PJ at the recruiting tent and when he heard Mark's name, his draw dropped and said "Mark Forester is the standard that we live by." We continue to meet people who Mark affected for the good.
Tough Mudder is a great event that requires teamwork, determination, and grit. We were honored to take part and to see so much patriotism surrounding the race.