As we have posted a few times before, Johnnie Yellock II has been recovering from severe injuries to his legs from an IED attack in Afghanistan. He has been making great progress, but recently he was thought to have an infection in his left knee (the good leg), but after preparing for emergency surgery, the doctors deemed his knee was reacting to something else, so they drained fluids and gave him antibiotics.
The doctors are now concerned with an incision on the bottom of his left foot (one of many incisions on his legs and feet). They have taken cultures and test results will follow.
We pray this is resolved quickly and his recovery and ability to walk continue to increase each day. Johnnie and his family continue to thank everyone for their support and prayers.
Based on the picture below, he is recovering well and feels much better. Good to see you on your feet Johnnie.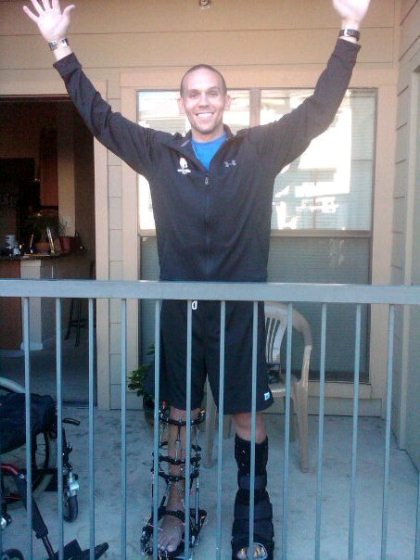 This picture was taken September 29, 2011 as Johnnie was releasing a balloon in Mark's memory. Notice the cookies-n-cream milkshake on the ground. He said that was for Mark too. This is a priceless picture.